I have attached a Sign-Up Genius with the tasks we need to accomplish to put on a great Back to School Bash for the kids.  The date is currently Thursday, August 30, 6:30 – 9:00.  I have broken the project down into bite-sized pieces so that no one person is overburdened.  Take a look and sign up for something that fits into your schedule.  We appreciate all volunteers!  And, you can have a great time with a few of your neighbors, to boot!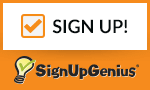 Click here to look at the tasks for the Back to School Bash
Leave a comment
You must be logged in to post a comment.